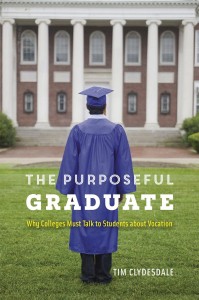 See my interview with Duke University's Faith & Leadership Project.
See why 'Vocation' is not a dirty word.
From the dust jacket:
"At this time of increasing doubt and uncertainty in higher education, Clydesdale has given us a shining path forward. The Purposeful Graduate is well reasoned yet passionate in its recommendations. It is also a good read, filled with compelling stories of young people searching for meaningful vocations in our complex world. I recommend it to anyone who cares about the future of higher education in this country."
—William Damon, Stanford University
"There are all sorts of books offered about how to improve higher education, energize students, incentivize teaching, and so forth. But Clydesdale's focus on vocation as a fundamental impetus for directing the student's course in college and beyond makes his book stand out. It is a simple notion that can be generalized to all of higher education, and he offers a bevy of programmatic initiatives that are as feasible as they are sensible."
—George Dennis O'Brien, president emeritus of the University of Rochester
I'm delighted to announce that my second book is now available from the University of Chicago Press.  To order, visit the book's page at the University of Chicago Press or Amazon.
Robert Osburn reviewed the book for First Things. Tim Muldoon wrote about the book on his Patheos blog. Luke Hlavin reviewed the book for the Association of Catholic Colleges and Universities. Michael Sean Winters reviewed the book in the National Catholic Reporter; his review appeared in two parts: NCR part 1, NCR part 2. He concludes "The skepticism with which I began the book – purpose exploration sounded a little Oprah-ish to my ears – was dispelled by the time I finished it. If your school does not have such a program, it should. If your child does not engage such a program, they should. And, if you care about higher education and you have not read this book, you should."
For a sample of what you will find in The Purposeful Graduate, see my essay in the Winter 2014 issue of Liberal Education: "Holy Grit! The Effects of Purpose Exploration Programming on Undergraduate Engagement and Life Trajectories."